Storage Solutions
Responder Line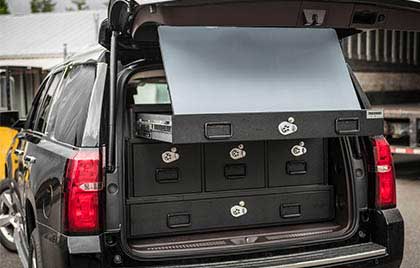 TruckVault® secure storage solutions are the first choice of law enforcement professionals across the country and around the world.
Protecting the safety of others begins with a responsibility towards individual security, organization, and care of your weapons and gear. TruckVault storage systems outfit law enforcement and public safety professionals with the tools to excel in all these areas and more. Our extensive selection of secure vehicle solutions is the result of partnerships with countless public safety departments and organizations at the local, state, and Federal levels.
For every vehicle type, we offer intuitive designs that begin with basic security and elevate to fully customizable command center offerings to keep your guns and gear safe.
Product Features
HEAVY DUTY PUSH-BUTTON LOCKS

Five Button combination locks with key-override for easy access and provides premium protection and security.

PROTECTS FROM CONDENSATION

TruckVault Secure Storage Systems put a stop to potentially damaging moisture buildup

PROTECTS FROM DUST & GRIT

Sealed tight from the elements, Truckvault Secure Storage Systems keep your gear grit-free

STRONGER AND LIGHTER

Constructed of tough MDO, TruckVault Secure Storage Systems are stronger than metal or plastic and travels silently

PROVEN FIRE PROTECTION

TruckVault Secure Storage Systems insulate stored equipment from extreme heat and damaging fire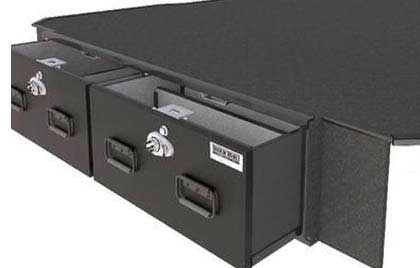 Please Contact Us for more information.