Law Enforcement Video Solutions
Digital Ally® is committed to providing law enforcement and security agencies with the highest quality technology to assist in capturing digital evidence. As the innovation leader in the industry, Digital Ally designs feature-rich products that are rugged, durable and reliable. Agencies from all 50 states and more than 30 other countries rely on Digital Ally products every day.
In Car Video
DMV-800 Video System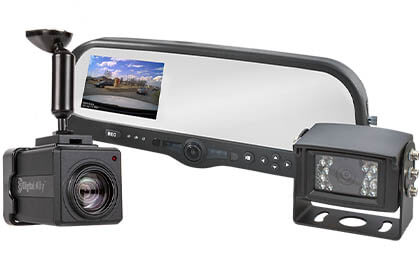 Solid-State Digital Video Mirror
Compact, powerful, and easy to use system replaces a factory rearview mirror. Digital Ally's continuation in the family of highly successful DVMs is a time-tested solution designed for law enforcement.
Auto-Activation Technology
Digital Ally's patented VuLink product enables cross auto-activation of body-worn and in-car camera systems when activated. This patented technology provides the ability to synchronize playback of both in-car and body-worn cameras.
Uncomplicated Design
Easy to install, the DVM-800 video system is highly configurable with the ability to activate through a variety of triggers and wirelessly upload video evidence.
Wireless Microphone
The wireless microphone records audio for up to 1,000 feet from the vehicle. When activated, the microphone remotely starts a recording. DVM-800 units also have built-in audio sources for in-vehicle recordings.
Critical Capture
Pre-Event: When enabled the system will record up to the previous 30 seconds leading up to the activation of a recording. Evidence Capture Assurance® (ECA): When enabled, ECA provides a continuous loop of recording that allows an agency to go back and look at video from an entire shift.
Please Contact Us for more information.