Back-up Alarms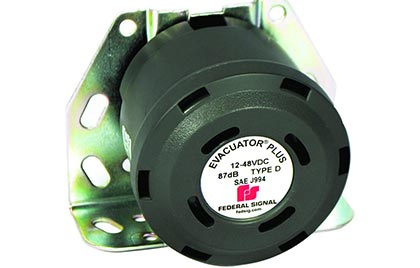 Evacuator® Back-up Alarms
Federal Signal's Evacuator Plus (dual tone) back-up alarms are engineered to provide dependable performance and exceptional warning power across a diverse range of vehicle and material handling equipment requirements. Built to withstand the most punishing applications, these alarms feature piezo-electric circuitry and solid-state components that reduce Amp draw (as low as 0.02 A @ 12 VDC), and minimize the adverse effects of shock and vibration.
"Plus" models offer dual-tone function (pulse or constant)
A wide range of decibel levels and operating voltages are offered for enhanced application flexibility
Universal mounting bracket included
Lighting Solutions
Area Lighting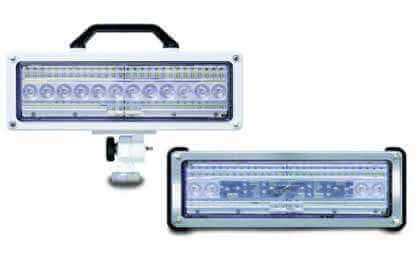 Commander® Series
Full Function Area Light
Commander® Series provides the widest light pattern for improved work area visibility as well as illuminating objects at a farther distance. Advanced lens and a unique arrangement of LEDs generate a uniform flood and spot combination of light patterns. This scene light has three rows of LEDs. The top and bottom rows are flood LEDs designed to light up the work area. The middle row of focused spot LEDs provides long distance illumination. Unique lens design illuminates area directly below lamp head.
Surface Mount
The Commander Series is available in a low profile LED surface mount or recess mount to contour the shape of your emergency vehicle. These models come standard with a chrome bezel and are available with an optional white or black bezel. The surface models provide an impressive 20,000 lumens of light and are available as 12/24 VDC.
Portable Commander Series
The portable Commander Series models can be moved to a specific location with the use of the rubber molded handle. This handle stays cool when the lamp head is illuminated. A variety of lighting mounts are also available to suit your emergency scene. Portable models provide up to an impressive 28,000 lumens of light.
Generates up to 28,000 lumens of super bright white light
Available in 12/24 VDC, 120 VAC or 240 VAC models
Regardless of power source — same high-powered light output
Beacons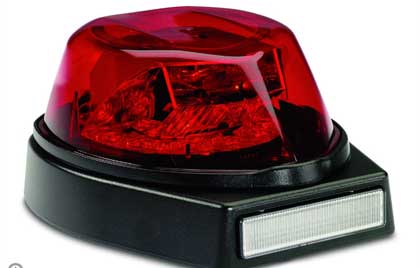 Federal Signal IVP SLR LED
Federal Signal has combined the superior light output of a rotator with the advantages of LEDs to create the first true LED beacon in the marketplace, the IVP SLR.
Featuring the patented Solaris LED Rotator, the IVP SLR creates a burst of illumination with the benefits of a rotator to create a sweep of li ght unmatched by flashing lights.
The IVP VSLR is available in two styles that compliment Federal Signal's Vision SLR lightbars. The VSLR1 features red or amber LEDs and may be used as part of an NFPA lighting package. The VSLR1-R1A02 is NFPA compliant and features a red LED rotator and an IPX6 light in an attractive housing.
NFPA Compliant models available
Patented Solaris LED Rotator for a true 360 sweeping coverage
Designed to match Vision SLR lightbars for a complete upper level lighting package
Interior Lighting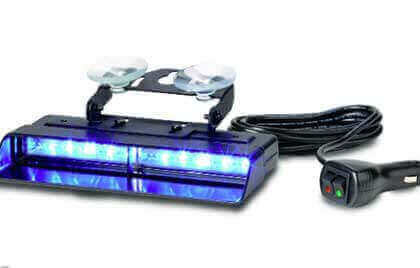 XStream™
Built-in Versatility
XStream™ is an interior mount LED warning light that can be installed almost anywhere inside a police car, fire commander and volunteer fire vehicle, or work truck. XStream is available in single or dual head configurations and with cigarette plug or wire leads that allow for synchronization. Ideal for dash/deck, headliner, and window mount applications, each model includes a light head, two suction cups, bail and pivot brackets, mounting hardware and three different length snap-on flash guards making installation quick and versatile.
Every model is built with Federal Signal's Solaris® LED reflector for superior optical performance. In addition, SpectraLux® multicolor LED technology provides the ability for a LED light head to change color and operate as a single, dual, or triple color light head through user-selected color modes.
Easy Push-Button Flash Pattern and Color Mode Selection
XStream warning lights come equipped with (25) flash patterns and (10) color modes. Flash patterns and color modes can be changed simply with two recessed buttons included on each model. Wired units use an advanced five wire technology that coordinates flash patterns between up to eight lights at once. Cigarette plug models are simple to transfer from vehicle to vehicle and include two switches for on/off and White steady-burn.
Solaris® LED reflector technology for better optical efficiency and superior off-axis warning
SpectraLux™ multicolor LED technology in combinations of Amber, Blue, Green, Red and White
Each light head includes three colors with 6 LEDs of each color (18 LEDs total)
Lightbars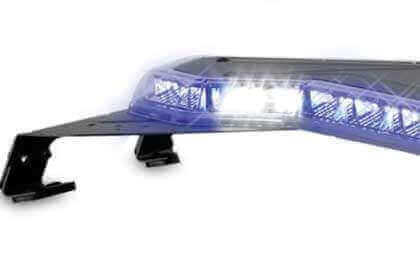 Police Valor®
Valor is a non-linear LED light bar that provides 360-degree of light-output and superior off-axis lighting engineered to outperform a typical linear light bar.
Patented Solaris® and ROC (Reliable Onboard Circuitry™)
Built with Solaris® LED reflector technology, the Valor light bar is engineered to significantly increase off-axis warning and maximize the LED light source to eliminate dark spots and improve visibility while on the road and in work zones. ROC technology minimizes potential failure points in the light bar — replacing wires, connectors, and assemblies with PCB assemblies to reduce labor repair time and increases road time for work trucks.
SpectraLux® Lights the Way
Exclusive to Federal Signal, the SpectraLux® multi-color LED technology provides the ability for a LED light source to change color while in operation. This added flexibility allows the Valor light bar to operate with up to (3) colors in each module. With the SpectraLux feature, Valor can flash one color and then override to a front or rear flood light or to a rear SignalMaster™ directional warning pattern.
Easy to Install and Operate
Valor incorporates the FS Convergence Network technology which allows for "plug-and-play" installation via the standard RJ45 connections. In addition, the optional 6-button serial controller offers (6) user-friendly keypads with various light bar function options. Additionally, working in conjunction with the 6-button controller, the Relay Model (660100SSG) offers the capability to control up to four different devices with one unit (up to 40 Amps) making it ideal for users to customize complete warning packages with a variety of light heads, such as Corner LEDs and perimeter lights.
Perimeter Lighting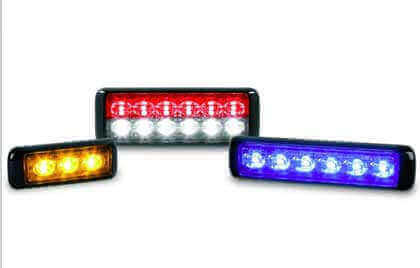 MicroPulse® Ultra
Superior warning with high-powered LEDs
Low-profile design offers wider range of mounting locations
(18) MPS3U, (23) MPS6U or (25) MPS12U flash patterns
Stick Lights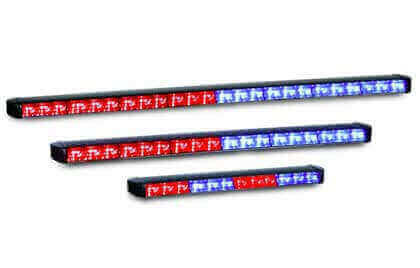 Latitude™ Series
A complement to any warning solution
Latitude™ series offers the flexibility needed to complement any warning solution. Equipped with three-LEDs per position and Federal Signal's Solaris® LED reflectors, Latitude delivers an impressive optical performance for your vehicle. The warning light is available in 4-, 6-, and 8-head flashing models. SignalMaster™ directional warning is available in 6-head and 8-head models. The SignalMaster 8-head model is available with flashing ends suitable for many vehicle applications.
Warning capabilities
Latitude flashing models are programmed with (10) eye-catching flash patterns plus one test pattern and SignalMaster models are programmed with (3) built-in directional signals (left, right, and center-out) and one warning pattern. Latitude SignalMaster models with flashing ends have (28) 8-head flash patterns, (5) 2-head flash patterns (end modules), and (5) directional patterns per each direction.
A simple concept you can depend on
Built to last, the Latitude is engineered with the exclusive ROC (Reliable On-Board Circuitry™) technology. ROC eliminates failure points found in similar warning products. Available for both interior and exterior applications, this sensible warning light is built with an innovative co-extrusion, polycarbonate housing to provide moisture resistance.
LED flashing warning light and SignalMaster™ models suitable for both interior and exterior applications.
Flashing models available in 4-head, 6-head, or 8-head.
SignalMaster models are available in 6-head or 8-head.
Sirens, Switches & Speakers
Sirens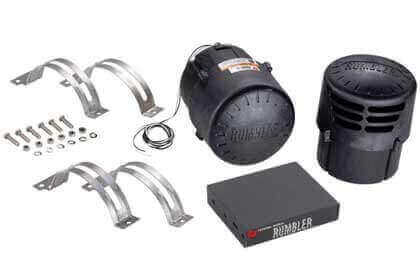 Rumbler® Low Frequency Siren for Police Vehicles
The Rumbler®, intersection-clearing system, demonstrates the long-standing commitment of Federal Signal to continue as the technological leader in audible warning and operator safety. The Rumbler is particularly effective for Police and Fire/EMS applications when used in dense urban environments with heavy vehicle and pedestrian traffic.
Improves Intersection Warning Effectiveness
The Rumbler introduces a revolutionary new concept to audible warning through its ability to interact with most 100/200-watt siren amplifiers and provide secondary, low frequency duplicate tones. Low frequency tones have the distinct advantage of penetrating solid materials allowing vehicle operators and nearby pedestrians to FEEL the sound waves.
Secondary System with Built-in Safety
The Rumbler system senses the primary siren tone signal, and reduces the signals' frequency by 75%. It then amplifies the sound through a pair of high output woofers. The system's timer allows the tone to sound for eight seconds, providing highly effective warning at hazardous intersections, and then automatically shuts off.
A complete Rumbler intersection-clearing system consists of an amplifier, with built-in timer and two subwoofers. Vehicle specific mounting hardware is ordered separately. This system can be paired with most 100/200-watt emergency siren amplifiers.
Improves emergency vehicle operator safety.
Produces penetrating/vibrating low frequency siren sound waves.
Interacts with most 100/200-watt emergency vehicle siren amplifiers.
Speakers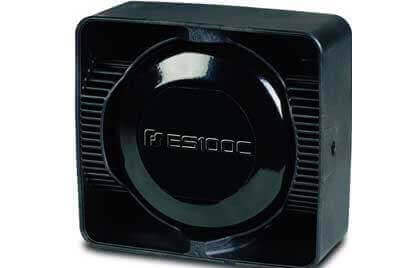 Sleek Design Meets High-Performance
The DynaMax® /ES100C is a 100 W speaker designed to withstand the toughest conditions. The slim shape and lightweight design is ideal for most police car, fire truck and work truck applications. This speaker features the Federal Signal Neodymium driver for increased performance and reliability.
The DynaMax/ES100C housing is molded from composite plastic — 30% glass-filled PET (polyethylene terephthalate). This high-strength composite material provides good chemical resistance and maintains rigidity at high temperatures.
A variety of vehicle specific DynaMax/ES100C mounting brackets are available to make installation simple.
100-Watt compact speaker
Neodymium driver increases performance and reliability
Slim and lightweight
Video Solutions
Reverse Camera/Monitor Systems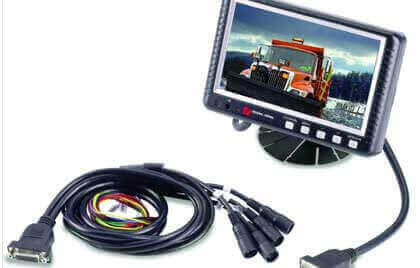 Reverse Camera Monitor Systems
Reverse Camera/Monitor Systems, from Federal Signal, provide the driver with an expanded field-of-view for enhanced safety during back-up or while maneuvering the vehicle in challenging environments. With a variety of cameras, monitors, and mounting options available, Reverse Camera/Monitor Systems has a solution for almost any vehicular application.
High-resolution Sony CCD camera for outstanding image quality.
5.6" or 7" color TFT-LCD monitors available.
Rear camera 4.3" color monitor available